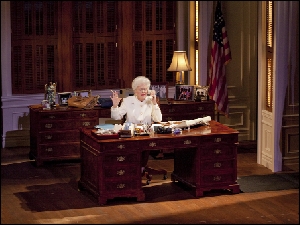 ANN: An Affectionate Portrait of Ann Richards at the Paramount Theatre
    For those of you who failed to secure a ticket to the sold-out run of Holland Taylor recreating Ann Richards I her one-woman show,
ANN: An Affectionate Portrait of Ann Richards
, let me tell you what you will miss:  one of the best solo shows, ever.
     Forget Hal Holbrook as Mark Twain, or Ed Asner as F.D.R.  Holland Taylor is Ann Richards in one of the most spot-on performances of this generation.
     Yes, I know – that is mighty big praise.  But Taylor puts on a mighty big show!
      The concept finds Richards – toward the end of her career – delivering a commencement speech at the imaginary Bugtussle College somewhere in Texas.  As she recounts the events in her life that led up to becoming governor, and her life after public office, Holland reveals both the public and private side of the woman that Texans affectionately still call just "Ann."

     When discussing her life as governor, the stage opens to reveal her office in the Capital Building, and Holland enacts part of a day – a slice of the life – of Richards as Texas Governor.  Talking to disembodies voices – including Tony Award-winner and fellow Texan Julie White as her assistant – Richards battles her staff, political allies and adversaries, and her own family members – demonstrating how Richards could switch back and forth from iron fist to velvet glow with the talent of a ballet dancer.
     The effect is uncanny.  Holland's physical resemblance – enhanced by make-up, a perfectly coiffed white wig and matching jacket and skirt – perfectly mirrors the Texas governor.  But the proof is in the performance, and Holland wholly channels the tenacity, whit and Texas charm that made Richards a national icon.  Holland accurately captures the speech patterns, mannerisms, body language and little nuances that immediately register with the audience as being unmistakably "ann."  Only when she smiles, does the audience catch a glimpse of the famous actress under the persona that she inhabits during the play.
    The Austin audience roared with approval at every quip, every one-liner, and every mention of a local hero – many of whom were actually in the audience, including Jaston Williams, Sarah Weddington, and Mark Strama.  Some of the material was added
specifically for the Austin run, supplemented by Richard's 16-year executive assistant Barbara Chapman, who provides a wealth of information to Holland as she researched and wrote the play.  I suspect that some of the more Austin-specific references will be altered as the production moves to Chicago and New York, but even if they are left intact, the national audiences will recognize the purpose of them, as they demonstrate the way that Richards supported fellow Texans who were trying to make their part of the world a better place for everyone else to inhabit.
      The home team crowd certainly remembered that aspect of Richards, as she led by example and left a gapping hole in our hearts when she passed away.  Holland concludes the play with Richards talking candidly about her recovery from alcoholism and her fight with the cancer that ended her life.  And I assure you that very few dry eyes were left in the charmed audience that delivered the hearty standing ovation that greeted the final curtain.
     If you possess a golden ticket to see Holland Taylor this week at the Paramount, count yourself among the blessed few.  If you miss this extraordinary performance, then hope that "Two and a Half Men" does not go back into production and that Holland Taylor decides to take
ANN: An Affectionate Portrait of Ann Richards
 on national tour after what will inevitably be a smash hit run on Broadway.  Either that, or start making your New York trip plans now, before that run sells out as well.
ANN: An Affectionate Portrait of Ann Richards
runs for a limited engagement through May 8th, with performances through Friday at 8 p.m., Saturday at 2 p.m. and 8 p.m., and Sunday at 2 p.m. Tickets start at $30, and are available by calling (512) 474-1221 or online at
www.AustinTheatre.org
.
     A reception with Holland Taylor will be held on Sunday, May 8th, immediately following the matinee performance. Tickets are available for $100 and proceeds benefit the Ann Richards School.  For reservations, call (512) 841-4035.